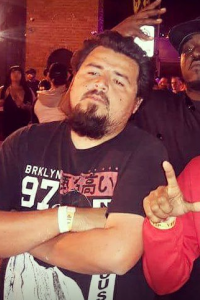 Don Marino
Miami,
Florida
Don Marino (also known as:
Don Dollaz
) (real name:
Don Marino
) is an American battle rapper from Miami,
Florida
. He currently has 42 battles catalogued, which total 839,197 views.
Upcoming Battles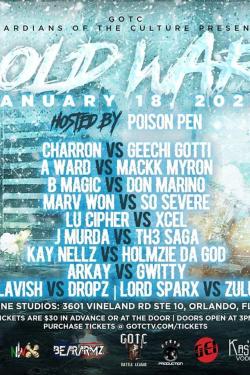 B Magic vs. Don Marino
Cold War (Guardians of the Culture)
Guardians of the Cultu...
January 18, 2020
All Don Marino Battles
League
Release Date
Views
Ty Law vs. Don Marino
7 Cities Sharks
Event: Blood in the Water 3 (7 Cities Sharks)
January 1, 2020
206 views
Moses West vs. Don Marino
BARburians Arena
Event: Ragnarok
December 12, 2019
769 views
Don Marino vs. Geechi Gotti
Guardians of the Culture
Event: Body Snatchaz
November 19, 2019
169,690 views
Don Marino vs. Reggie P
The Trap NY
Event: Bars Galore IV
October 30, 2019
1,248 views
Don Marino vs. Chuck Book
Gates of the Garden
Event: Open the Gates III
October 16, 2019
4,603 views
Don Marino vs. Badnewz
Gates of the Garden
Event: Open The Gates
August 14, 2019
54,274 views
Don Marino vs. Jonny Storm
Guardians of the Culture
Event: The Takeover (Guardians of the Culture)
August 14, 2019
6,558 views
Don Marino vs. Suni Talynt
BearArmz
Event: Unberrable Mayhem 5
July 29, 2019
919 views
Don Marino vs. Young R-Rah
Southern Hospitality Battle League
Event: Ultimatum (Southern Hospitality Battle League)
June 1, 2019
1,796 views
Don Marino vs. Young Herb
League of Championship Kulture
Event: Key 2 Tha City
May 30, 2019
14,124 views
Don Marino vs. Careless
The Zoo Battle League
Event: The Separation: Men vs. Beast
May 12, 2019
5,592 views
Don Marino vs. SG
County Ground Battle League
Event: Bars & Haymakers 2
March 31, 2019
21,472 views
Don Marino vs. Burnz Da Fyaman
We Are Upstate Battle League, Gates of the Garden
Event: Cold Hearted (We Are Upstate Battle League)
February 11, 2019
6,873 views
Don Marino vs. Shaun Sluggs
Gates of the Garden, Southern Elite Battle League
Event: Bad Blood V
January 2, 2019
9,253 views
Don Marino vs. Shaun Sluggs
Southern Elite Battle League
Event: Bad Blood V
December 25, 2018
1,207 views
Don Marino vs. Ralph Rose
Enter the Dungeon
Event: Eulogy 3
December 25, 2018
2,375 views
Don Marino vs. Jey The Nite Wing
Ultimate Rap League
Event: Red Dot
November 14, 2018
127,392 views
Don Marino vs. Dre Dennis
Gates of the Garden
Event: Dead 2 Writez 4
October 19, 2018
19,796 views
Gunpowder Patt vs. Don Marino
Ultimate Rap League
Event: Proving Grounds: Chapter One - ATL
September 18, 2018
96,071 views
Tuda J vs. Don Marino
Battle Kamp
Event: Night of Prey III
August 6, 2018
3,519 views
Don Marino vs. Wes Landry
Premier Rap Battle League
Event: S.U.P.E.R.: Step Up Perform Entertain Rap
August 3, 2018
10,078 views
Prez Mafia vs. Don Marino
Gates of the Garden
Event: No Trespassing
June 11, 2018
58,300 views
Don Marino vs. Slugga
Battle Kamp
Event: Free Smoke (Battle Kamp)
May 9, 2018
1,448 views
Chess vs. Don Marino
Gates of the Garden
Event: Gatekeepers
May 1, 2018
162,111 views
Frank Lucas (USA) vs. Don Marino
The Zoo Battle League
Event: March Massacre 3: The Trilogy
April 14, 2018
4,155 views
Floss Da Boss vs. Don Marino
Gates of the Garden
April 5, 2018
7,522 views
LMS & Don Dollaz vs. Isaac Knox & Mosh Jelton
King of the Dot
Event: Survivor Series 5
February 20, 2018
9,261 views
Don Marino vs. Dre Dennis
Dade County Elite Battle League
Event: Dead 2 Writez 4
February 12, 2018
4,962 views
Ryan Viafora vs. Don Marino
MJKG Viral
Event: The One
February 7, 2018
1,384 views
Getcha vs. Don Marino
BearArmz
Event: Purple Reign
January 6, 2018
1,191 views
Don Marino vs. Machete Trevy
Ground Zero Battles
Event: World Domination VII (Toronto)
December 9, 2017
5,236 views
Wellz vs. Don Marino
Art of War 305
Event: The Great American Bash
November 1, 2017
496 views
Xcel vs. Don Marino
WeGoHardTV
Event: For the Love of Paper II
September 14, 2017
7,662 views
Wolfpack Red vs. Don Marino
Enter the Dungeon
Event: Eulogy 2
September 12, 2017
769 views
Mel Taylor vs. Don Marino
The Zoo Battle League
Event: Take His Soul
September 2, 2017
1,006 views
HighCollide vs. Don Marino
Art of War 305
Event: Redemption (Art of War 305)
July 26, 2017
3,067 views
Tapedeck vs. Don Marino
Art of War 305
Event: Final Fight 4: Checkmate
February 15, 2017
833 views
Problems vs. Don Marino
The Zoo Battle League
January 31, 2017
655 views
Don Marino vs. Cap So G
Atlanta Battle Rap
Event: Lyrical Assassination 2 (AHAT Atlanta)
December 1, 2016
69 views
Don Marino vs. Court
Atlanta Battle Rap
Event: Lyrical Assassination 2 (AHAT Atlanta)
November 26, 2016
923 views
Don Marino vs. Rob Da Rippa
Enter the Dungeon
November 21, 2016
635 views
Goddie Lumenati vs. Don Marino
Dade County Elite Battle League
October 2, 2016
9,700 views