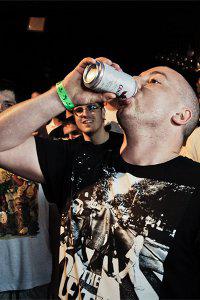 Oshea
Liverpool,
Oshea (real name: Steven O'Shea) is a British battle rapper. He currently has 109 battles catalogued, which total 9,851,485 views.
Upcoming Battles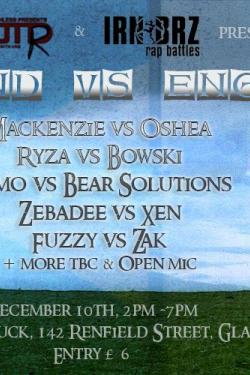 Mackenzie vs. Oshea
Scotland vs. England II
Iron Barz Battles
December 10, 2017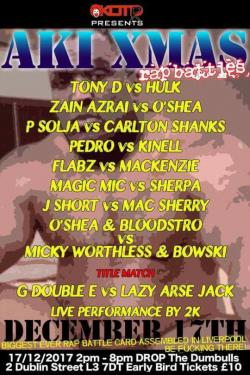 Zain Azrai vs. Oshea
Aki Xmas
King of the Ronalds
December 17, 2017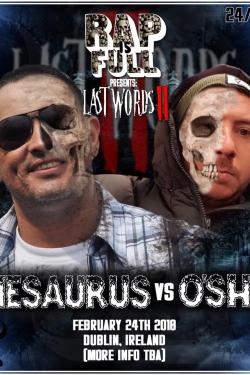 The Saurus vs. Oshea
Last Words II
Rap is Full Battle Lea...
February 24, 2018
All Oshea Battles
League
Release Date
Views
Oshea vs. 2k
UNCATEGORIZED
Event: The Plug Tour: Liverpool
October 27, 2017
5,295 views
Oshea vs. G Double E
King of the Ronalds
Event: Daplin City
August 7, 2017
4,126 views
Evil vs. Oshea
Don't Flop Entertainment
Event: Don't Flop - Scotland
March 25, 2017
44,146 views
Oshea vs. Mac Sherry
King of the Ronalds
Event: Two More Years: The Third Anniversary - Manchester
March 1, 2017
5,580 views
Oshea vs. Bobby Rex
Don't Flop Entertainment
Event: Revival 7 - Manchester
February 4, 2017
43,279 views
Oshea vs. Cracker
United Kingdom Battle League
Event: From the Ashes
January 7, 2017
14,591 views
Lefty vs. Oshea
King of the Ronalds
Event: Top Gun
December 25, 2016
6,731 views
Oshea vs. Juan
Don't Flop Entertainment
Event: Don't Flop - 8th Birthday Weekend
December 10, 2016
69,922 views
Aukes vs. Oshea
Don't Flop Entertainment
Event: Don't Flop - Reading
August 27, 2016
38,920 views
Oshea & Bloodstro vs. Willzy
Don't Flop Entertainment
Event: Revival V - Manchester
August 10, 2016
17,919 views
Oshea vs. Matter
Clash Money Battles
Event: Market Barz (June 10 2016)
June 26, 2016
8,158 views
Oshea & Sprungy vs. Eddie P & Frisko
King of the Ronalds
June 8, 2016
2,439 views
Bard vs. Oshea
King of the Ronalds
April 30, 2016
5,697 views
Oshea vs. MyVerse
Don't Flop Entertainment
Event: Don't Flop - Sheffield
March 26, 2016
163,672 views
Oshea & Pedro vs. Caustic & Pass
Don't Flop Entertainment
Event: Don't Flop 7th Birthday Weekend
March 7, 2016
70,524 views
Scorzayzee vs. Oshea
Clash Money Battles
February 22, 2016
14,209 views
Oshea vs. Big Sarters
King of the Ronalds
December 25, 2015
5,538 views
Oshea vs. Kid Twist
Don't Flop Entertainment
Event: 7th Heaven
December 25, 2015
92,558 views
Oshea vs. Bowski
King of the Ronalds
Event: Specialists in Failure
September 28, 2015
4,017 views
Oshea & Sprungy vs. Visceral & Roots
King of the Ronalds
September 12, 2015
1,976 views
Oshea vs. Sprungy
Words Are Weapons
Event: The Clash - Liverpool
August 30, 2015
23,571 views
Double L vs. Oshea
Clash Money Battles
Event: Wolves
June 8, 2015
19,135 views
Lunar C vs. Oshea
Don't Flop Entertainment
Event: Checkpoint 2
June 6, 2015
1,007,961 views
Oshea vs. Joker Starr
King of the Ronalds
May 18, 2015
4,927 views
Double L & Pedro vs. Oshea & JShort
Don't Flop Entertainment
Event: Don't Flop - Liverpool
May 10, 2015
64,446 views
The Calcium Kid vs. Oshea
Don't Flop Entertainment
Event: Don't Flop - Liverpool
April 8, 2015
162,793 views
Pedro vs. Oshea
Don't Flop Entertainment
Event: Don't Flop Birthday 6.5
March 7, 2015
242,936 views
Oshea vs. Hulk
King of the Ronalds
Event: The End of the Beginning
February 16, 2015
10,323 views
Harry Baker vs. Oshea
Don't Flop Entertainment
Event: Dont Flop 6th Birthday Weekend
January 21, 2015
177,752 views
Oshea vs. Micky Worthless
UNCATEGORIZED
Event: Wylin Out 2 - Battlefield LA1
July 2, 2014
13,574 views
Oshea vs. Ogmios
Don't Flop Entertainment
Event: Raise the Bar Tour - Nottingham
May 12, 2014
166,330 views
Oshea vs. Big J
Don't Flop Entertainment
Event: Raise the Bar Tour - Liverpool
April 7, 2014
197,782 views
Dizaster & Oshea vs. Philly Swain & Pedro
Don't Flop Entertainment
Event: Dont Flop 5th Birthday Weekend
January 8, 2014
250,671 views
Oshea vs. Charlie Clips
Don't Flop Entertainment
Event: Dont Flop 5th Birthday Weekend
December 18, 2013
560,284 views
Oshea & Pamflit vs. Crisis & Suus
Get Slated Rap Battles
August 7, 2013
2,851 views
Oshea vs. Chris Leese
No Beef Rap Battles
August 7, 2013
24,979 views
Crisis vs. Oshea
Get Slated Rap Battles
Event: Get Slated 1st Anniversary Event
August 1, 2013
16,573 views
Oshea vs. Blizzard
Don't Flop Entertainment
Event: Liverpool
July 4, 2013
192,568 views
Oshea vs. Uno Lavoz
Don't Flop Entertainment
Event: Distinction
March 16, 2013
384,165 views
Tenchoo & Sprungy vs. Oshea & Bowski
Barmageddon Rap Battles
January 2, 2013
15,073 views
Oshea vs. Tony D
Don't Flop Entertainment
Event: 4th Birthday Weekend
November 7, 2012
473,921 views
Oshea & Sprungy vs. Bowski & Hydef
Rapped In Wire
October 26, 2012
6,269 views
Mos Prob & Prince Kong vs. Oshea & Sprungy
Barmageddon Rap Battles
October 14, 2012
3,702 views
The Saurus & Illmaculate vs. Henry Bowers & Oshea
The O-Zone Battles
Event: The O-zone Battle League Presents
July 22, 2012
140,305 views
Oshea vs. Pamflit
Don't Flop Entertainment
Event: BLAM!
July 16, 2012
131,219 views
Oshea & Average Keith vs. Pamflit & Baron Mynd
Barmageddon Rap Battles
May 29, 2012
11,746 views
Oshea vs. ZM
Don't Flop Entertainment
Event: To The Test 10
April 14, 2012
61,124 views
Oshea vs. Nugget
Da' Fighting Irish
March 12, 2012
33,781 views
Oshea vs. Sensa
Don't Flop Entertainment
February 19, 2012
243,814 views
Oshea vs. Ro.P.Row
Don't Flop Entertainment
January 29, 2012
11,305 views
Oshea & Bowski vs. Pedro & Pamflit
Don't Flop Entertainment
Event: Blood in the Water 5
January 26, 2012
68,898 views
Oshea vs. LightE The Boombox Genie
Don't Flop Entertainment
January 23, 2012
21,880 views
Uno Lavoz & Oshea vs. Real Deal & Fresco
Don't Flop Entertainment
Event: Blood in the Water 5
January 21, 2012
198,379 views
Uno Lavoz & Oshea vs. Micky Worthless & Jefferson Price
Don't Flop Entertainment
Event: Blood in the Water 5
January 12, 2012
181,273 views
Oshea vs. Ness Lee
Don't Flop Entertainment
Event: Blood in the Water 5
December 27, 2011
147,675 views
Henry Bowers & Step Easy vs. Syco & Oshea
Ground Zero Battles
December 18, 2011
91,461 views
Uno Lavoz & Oshea vs. Adi Montenegro & L-Deep
Don't Flop Entertainment
Event: Blood in the Water 5
December 16, 2011
268,341 views
Charron & Oshea vs. Shazaam & Nils m/ Skils
Ground Zero Battles
December 4, 2011
61,469 views
Ness Lee vs. Oshea
Ground Zero Battles
Event: Proud2BEhBattleMC WD2
October 10, 2011
12,946 views
Prince Kong vs. Oshea
Cold City Battles
October 10, 2011
16,567 views
PoRich vs. Oshea
King of the Dot
Event: World Domination 2
September 12, 2011
158,828 views
Rob Kelly & Bony vs. Oshea & Innuendo
Da' Fighting Irish
August 3, 2011
20,223 views
Shotty Horroh vs. Oshea
The Battle Lab
June 20, 2011
393,740 views
Jee4ce vs. Oshea
Da' Fighting Irish
June 15, 2011
33,503 views
Oshea vs. Bowski
Don't Flop Entertainment
Event: To The Test 5
June 13, 2011
177,644 views
Oshea vs. Scizzahz
Don't Flop Entertainment
May 28, 2011
65,459 views
Okwerdz & Dizaster vs. Arkaic & Oshea
Grind Time Now
May 18, 2011
125,040 views
Oshea vs. Loe Pesci
Don't Flop Entertainment
Event: Blood in the Water 4
April 28, 2011
230,603 views
Decoy & Sprungy vs. Innuendo & Oshea
Got Beef?
March 28, 2011
2,448 views
Frank Stacks vs. Oshea
Don't Flop Entertainment
Event: Blood in the Water 4
March 20, 2011
389,013 views
Oshea & Innuendo vs. Chronicle & Pamflit
Don't Flop Entertainment
February 22, 2011
39,081 views
Oshea & Innuendo vs. The Calcium Kid & Baron Mynd
Don't Flop Entertainment
Event: To The Test 2
February 14, 2011
26,207 views
Oshea vs. Syco
Don't Flop Entertainment
Event: Blood in the Water 3
January 22, 2011
100,303 views
Oshea & Evileyz vs. Pamflit & Stowaway
Got Beef?
January 21, 2011
11,602 views
Oshea & Innuendo vs. Eddie P & Frisko
Don't Flop Entertainment
Event: To The Test 1
December 15, 2010
152,979 views
Oshea vs. Flex Digits
Don't Flop Entertainment
November 19, 2010
288,206 views
Oshea vs. Elz
Don't Flop Entertainment
October 19, 2010
73,134 views
Oshea vs. Chronicle
The Art of Freestyle
September 21, 2010
2,604 views
Oshea & Chris Leese vs. Eyez & Vigilant
Don't Flop Entertainment
September 20, 2010
13,090 views
Oshea vs. Evileyz
The Art of Freestyle
September 5, 2010
843 views
Oshea vs. Baron Mynd
The Art of Freestyle
August 9, 2010
2,590 views
Oshea & Rikky Riley vs. Gizmo & Prince Kong
Don't Flop Entertainment
Event: Doubles 2010
July 16, 2010
17,610 views
Oshea vs. Kev Teezy
The Art of Freestyle
July 14, 2010
11,549 views
Oshea & Chris Leese vs. Disciple & Evileyz
Don't Flop Entertainment
May 17, 2010
12,798 views
Oshea vs. Psykosis
The Art of Freestyle
April 26, 2010
1,244 views
Oshea vs. Deffinition
Don't Flop Entertainment
April 15, 2010
99,043 views
Oshea vs. Nate
The Art of Freestyle
March 31, 2010
13,943 views
Oshea vs. Rikky Riley
The Art of Freestyle
March 25, 2010
2,507 views
Oshea vs. J Taylor
The Art of Freestyle
March 4, 2010
6,847 views
Oshea vs. Psykosis
The Art of Freestyle
February 21, 2010
17,431 views
Oshea vs. 2k
The Art of Freestyle
February 3, 2010
9,246 views
Dirtbag Dan vs. Oshea
Don't Flop Entertainment
Event: Blood in The Water 1
January 11, 2010
423,445 views
Innuendo & Oshea vs. Disciple & Evileyz
The Art of Freestyle
January 9, 2010
2,594 views
Oshea vs. Sprungy
The Art of Freestyle
January 5, 2010
29,929 views
Oshea vs. Cruger
Don't Flop Entertainment
Event: North vs. South
December 20, 2009
152,766 views
Oshea vs. Pseudonym
Don't Flop Entertainment
November 22, 2009
31,432 views
Oshea vs. Decoy
Don't Flop Entertainment
October 13, 2009
36,535 views
Oshea vs. Chronicle
Don't Flop Entertainment
September 6, 2009
74,949 views
Oshea vs. ZT
Don't Flop Entertainment
August 10, 2009
31,201 views
Oshea vs. Analyst
Don't Flop Entertainment
July 2, 2009
25,261 views
Sensa vs. Oshea
Don't Flop Entertainment
June 22, 2009
141,681 views
Oshea & Rikky Riley vs. Disciple & Evileyz
Don't Flop Entertainment
May 11, 2009
12,579 views
Oshea vs. Lego
Don't Flop Entertainment
April 13, 2009
52,533 views
Appeal & Flex Digits vs. Oshea & Byrotechnik
Don't Flop Entertainment
January 29, 2009
7,972 views
Oshea & Double Deuce vs. Analyst & Chris Leese
Don't Flop Entertainment
January 19, 2009
10,371 views
Oshea vs. 2ez
Don't Flop Entertainment
November 2, 2008
16,705 views
Music Albums from Oshea